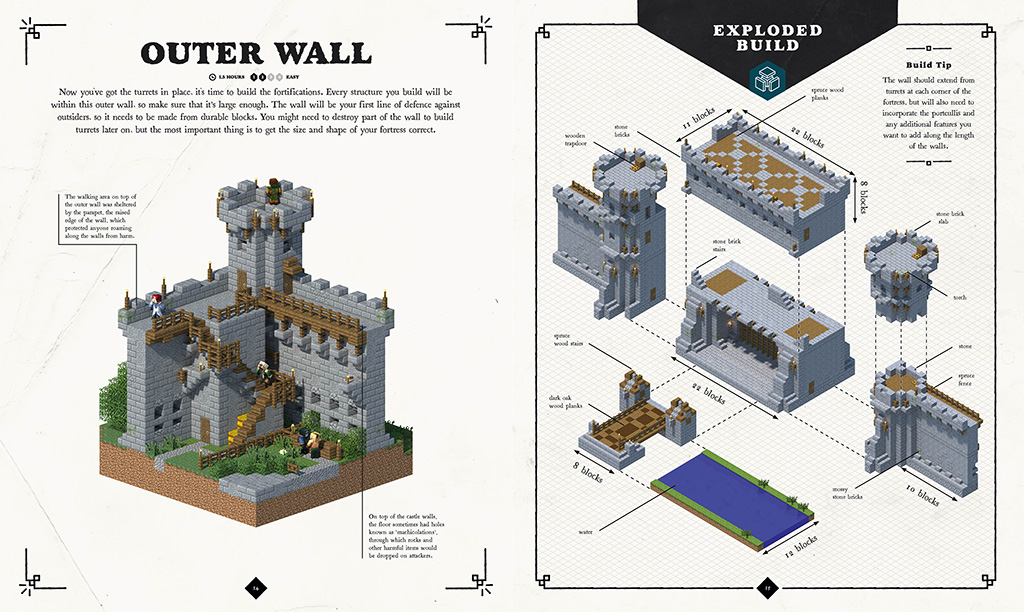 Despite the name, this book is not, in fact, about exploding your fortress, or the fortresses of others. Medieval Fortress is a book covering various methods to construct fortresses in their many parts, including wall and turret designs, dungeons, throne rooms, and quite a bit more.
The titular "exploded" descriptor refers to how the book shows the various parts - an exploded diagram is one where the parts are separated from one another, to get a better look at how they come together when whole. Visually, it's an incredibly helpful tool in understanding construction, giving insight into fitting parts together, and precisely which parts go where, and in what order.
You can pick this book up from Amazon today. Neat! The base price is £12.99, though Amazon often offers sweet deals and discounts.
The book is expected to be available in the US shortly.
The Page "Medieval Fortress: Exploded Builds" Now Available was first posted on 7:03 am, October 7, 2016 in the category Minecraft Forum it has been viewed 5350 times.
Share
Page Details
Views: 5350
Short Title: "Medieval Fortress: Exploded Builds" Now..
Full Title: "Medieval Fortress: Exploded Builds" Now Available
Raw Date: 2016-10-07 07:03:06
Nice Date: 7:03 am, October 7, 2016
Rating: -4
Content Length: 876