Minecraft might be changing price in your region
UPDATE: Amended graphic to read HONG KONG not HONK KONG.
Money, eh? When its in your pocket it seems constant in value, but when you start comparing it to coins in pockets around the world, it seems to be worth more or less than before.
Thats currency in a nutshell. Thats economics. Its very boring.
Anyway, in the spirit of currency exchange, were changing the prices of Minecraft in different regions so they align with the United States Dollar. The new prices will take effect on May 23. Please note that this applies to Minecraft for PC (the Java version), and not the Console and Pocket Editions.
If you havent bought Minecraft yet, it might be worth purchasing in the next week if your pocket money allowance isnt aligned with the United States Dollar. You could end up saving yourself a pretty penny.
You may notice that some regions dont have an old price listed below. Thats because Minecraft hasnt been on sale in that currency yet. Welcome to the fold, Japan and Korea.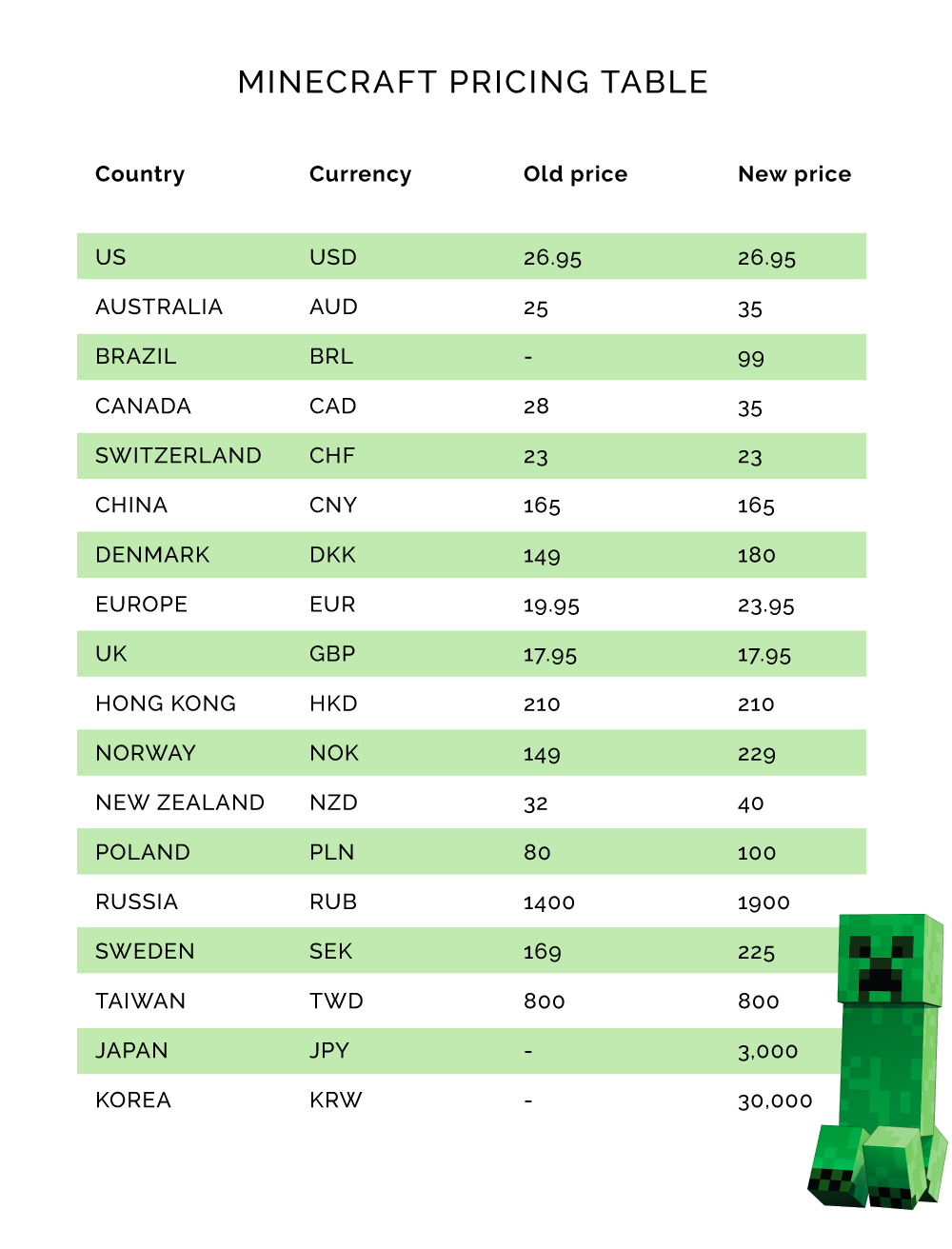 Hope thats not too confusing! Hey! And thanks for buying Minecraft, no matter which bit of the world youre from.
Owen - @bopogamel
Category: Mojang Official
The Page Minecraft might be changing price in your region was first posted on 7:03 pm, May 16, 2016 in the category Mojang Official it has been viewed 1559 times.
Gallery
Next Post / Last Post
Share
Page Details
Views: 1559
Short Title: Minecraft might be changing price in your region
Full Title: Minecraft might be changing price in your region
Raw Date: 2016-05-16 19:03:24
Nice Date: 7:03 pm, May 16, 2016
Rating: 0
Content Length: 1121