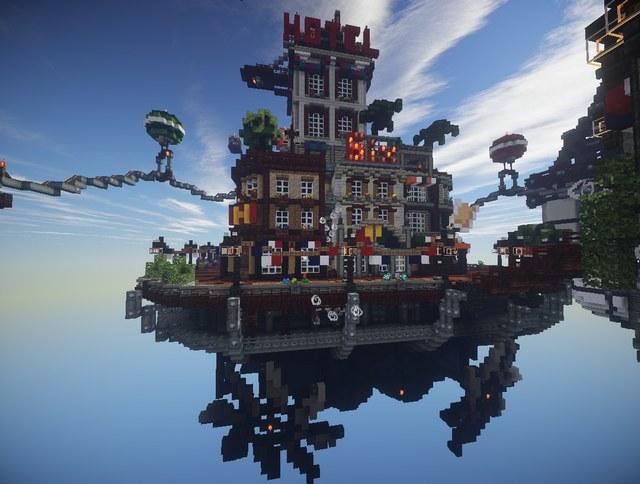 While many players love hardcore survival, intense player-versus-player battles, and highly competitive minigames, a significant number of players also enjoy a somewhat more casual experience. For those that love building above all else, there is Creative mode, and the only thing more fun than building a huge, complex project on your own is building it with friends!
Creative servers fall into an interesting niche here; on the one hand, it is important to provide a safe, fun environment for players who just want to build interesting structures, entire towns, or other super-projects as needed. On the other, Creative mode generally allows a level of freedom not experienced in Survival, Hardcore, or Adventure modes, and that freedom could easily be abused by enterprising players taking advantage of unwary server owners. As one might expect, most Creative servers take precautions against these kinds of abuses with a variety of tools - besides the usual anti-griefing plugins, many Creative servers limit players to a specific area to build within, and often limit access to certain blocks which could easily be turned to nefarious uses. Even with these limitations, Creative servers find themselves home to a number of free-building types, and remain fairly popular even today.
So, where are some places you can set up shop and get your build on?
| | |
| --- | --- |
| Nightcraft | |
Aside from the non-Creative modes on Nightcraft, there are a number of more traditional activities (Survival, Sky Wars, etc) for players to engage in, should they want a break from building. Nightcraft is probably the closest server on this list to more traditional servers, with numerous activities to dive into, where the two following servers focus almost exclusively on Creative mode.
Nightcraft is a whitelisted server, so you may need to apply to join. It is currently running on version 1.8.9.
| | |
| --- | --- |
| Creative Fun | |
This server features a number of separated, wide-open Creative build areas with existing structures already in place. The community here is fairly active, even in off-hours. Group projects seem to be fairly popular here, so if you enjoy building with others, consider dropping by.
Creative Fun is currently running on version 1.9.
| | |
| --- | --- |
| Blockface | |
Blockface follows the more traditional route for Creative servers, giving players their own plots to build on, which are protected. This server does feature some very player-friendly features in the main area, with pre-made maps that allow players to scout out building areas to claim without having to spend hours hunting out the perfect spot. Claim a spot for yourself today!
Blockface is currently running on version 1.9.
Remember, you can check out all of these servers and many more right here on the Minecraft Forum Server List! There are tons of servers to check out, and more are added every day. Enjoy!
The Page Server List Spotlights: Creative Servers was first posted on 7:03 pm, March 17, 2016 in the category Minecraft Forum it has been viewed 5034 times.
Share
Page Details
Views: 5034
Short Title: Server List Spotlights: Creative Servers
Full Title: Server List Spotlights: Creative Servers
Raw Date: 2016-03-17 19:03:23
Nice Date: 7:03 pm, March 17, 2016
Rating: 0
Content Length: 2928