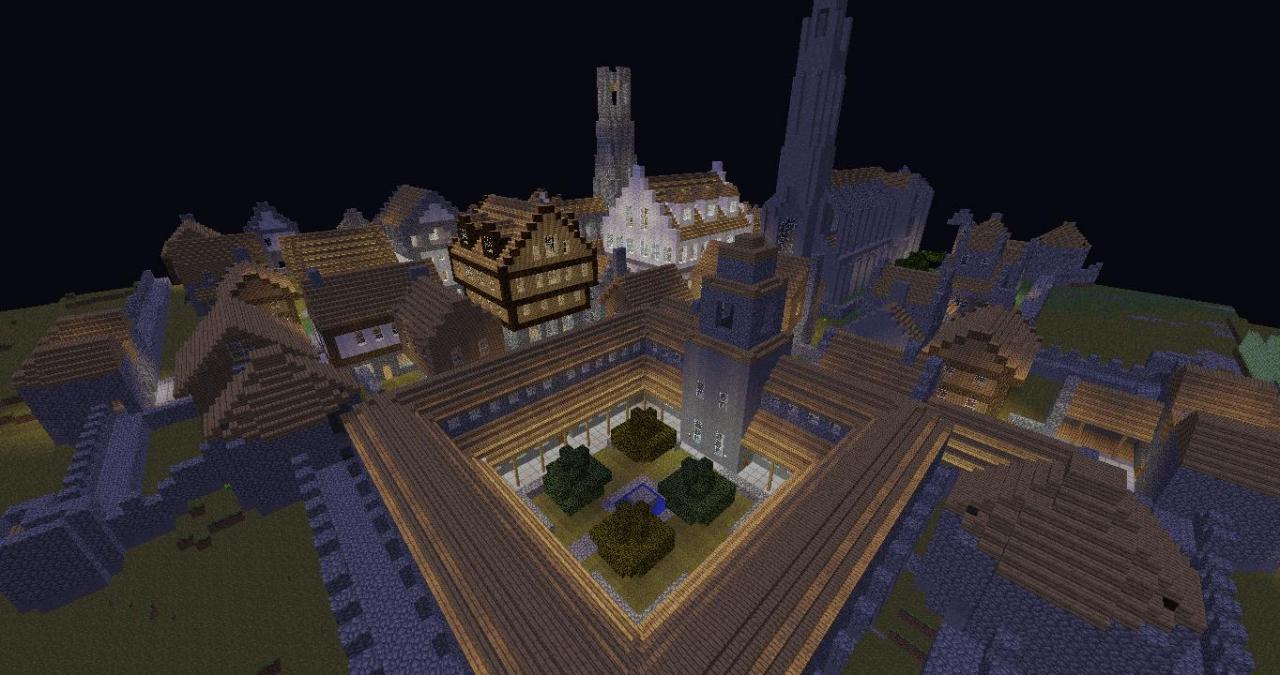 Role-playing games are older than video games themselves, so it is pretty easy to see why they are a mainstay in popular gaming culture. Minecraft, being the modular game that it is, makes a perfect platform to build the RPG of one's dreams, within reason. So, how does one get into Minecraft-based RPGs?
Most RPG servers focus on two main ideas: one, the world has a special theme of some kind, whether it be sci-fi, fantasy, horror, or something more exotic. Two, the player is more than just a collection of stats and skills, but a person with an identity, history, likes and dislikes unique to them, and are a part of this rich world the server owners have created. Generally (though not universally), such RPG servers expect you to play your character as though they were in a story (in this case, the narrative of the server in question). Is your character a convict? He might be coarse, quick to fight, and short on words. Maybe your character is more social, or even a complete pacifist. The sheer number of possibilities are too numerous to lay out in detail, but the basic idea is the same across the board.
Since we are talking about RPG servers, I have done some digging on our Server List using "RPG" as the filter, and found a few good ones to start with, whether you are a veteran of RPG environments, or a newcomer wanting to give it a try for the first time!
| | |
| --- | --- |
| Plunderseas | |
Delving back into pirate territory, Plunderseas is an ocean-themed RPG server that uses seafaring vessels as the primary means of getting around. The systems for building and controlling ships is a bit complex, but the introductory tutorial does a fairly good job of explaining how it all works, and it really adds to the immersion of the experience. If you're craving some high-seas adventures, this is definitely worth a look!
As difficulty goes, this server will likely take a bit more investment of time to learn the ropes, as the ship, cannon, and various other systems are quite different from other RPG servers. While it is explained fairly clearly, there is a lot to absorb. Set aside an hour or two before diving in, but it is well worth learning if you have ever wanted to sail around large ships and go on adventures!
| | |
| --- | --- |
| Nevan Wolf | |
 Nevan Wolf takes the idea of a prison server and tosses it completely on its head; you are no mere prisoner trying to scrape out a meager existence before escaping, but a freshly-escaping convict who's lands are being invaded by mysterious forces! I was pleasantly surprised by this server: the introduction explains the systems they use very well, the staff and community are very friendly, and it is just a stellar experience overall. Many different classes and activities await here, far more than one might suspect. As one long-time player put it, "you can easily lose a few weeks here!"

Interestingly, Nevan Wolf is an Australian server. Despite connecting from North America, I had a strong connection with essentially no lag at all, but it will undoubtedly be a welcome addition to anyone looking for a good Aussie server as well. Give it a look, you won't be disappointed!
| | |
| --- | --- |
| Infernal Realms | |
A bit more on the traditional side of RPG servers, Infernal Realms focuses primarily on fantasy elements - create clans, fight epic bosses, wage wars, and try to become a king! A good mix of traditional gameplay and strong RPG elements, Infernal Realms is a touch complex, but presents itself quite well, and is easy to learn quickly with a little bit of effort. The world-map is quite large, and boasts an impressive number of dungeons and points of interest, to say nothing of the robust construction system. If you want something a bit more fantasy-focused, this is a good place to start!
Remember, you can check out all of these servers and many more right here on the Minecraft Forum Server List! There are tons of servers to check out, and more are added every day. Enjoy!
The Page Server Spotlights: RPG (Role-Playing Game) Servers was first posted on 7:03 pm, March 11, 2016 in the category Minecraft Forum it has been viewed 4942 times.
Share
Page Details
Views: 4942
Short Title: Server Spotlights: RPG (Role-Playing Game) Servers
Full Title: Server Spotlights: RPG (Role-Playing Game) Servers
Raw Date: 2016-03-11 19:03:22
Nice Date: 7:03 pm, March 11, 2016
Rating: 0
Content Length: 3996