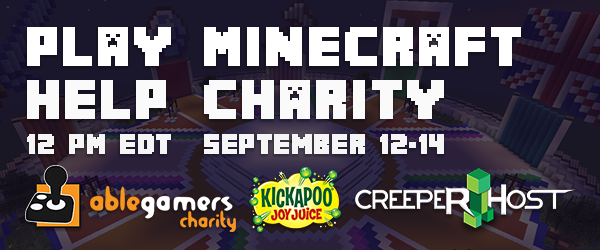 This weekend kicks off the annual MineThon charity livestream event! Raising funds for the AbleGamers charity - an organization that focuses on providing greater accessibility to video games in the disability community - MineThon hosts a good number of events for players to participate in, a livestream that will go on for the duration of the event, and quite a few giveaways as well for donators! There will also be special guests and activities, so be sure to drop by and join in on the fun!
Visit minethon.com to donate any amount directly to AbleGamers. Donate $5 or more, and you can play with the MineThon volunteers on their 500-player server. Watch MineThon on twitch.tv/ablegamers and follow the stream on twitter.com/minethon!
AbleGamers is a 501(c)3 non-profit that strives to improve the quality of life for people with disabilities through the power of video games. The charity was founded by Mark Barlet and Stephanie Walker in 2005. Today, AbleGamers grants accessible peripherals to people with disabilities worldwide and works with developers to make video games more accessible. "I believe that there is nothing more powerful for people with disabilities than the freedom that only video games can provide," said Barlet, the President of AbleGamers. "It's an art form that allow us to all run, jump and be whatever we want to be."
The Page Charity Event: MineThon Starts Tomorrow! was first posted on 7:03 pm, September 11, 2015 in the category Minecraft Forum it has been viewed 2177 times.
Share
Page Details
Views: 2177
Short Title: Charity Event: MineThon Starts Tomorrow!
Full Title: Charity Event: MineThon Starts Tomorrow!
Raw Date: 2015-09-11 19:03:34
Nice Date: 7:03 pm, September 11, 2015
Rating: 0
Content Length: 1368