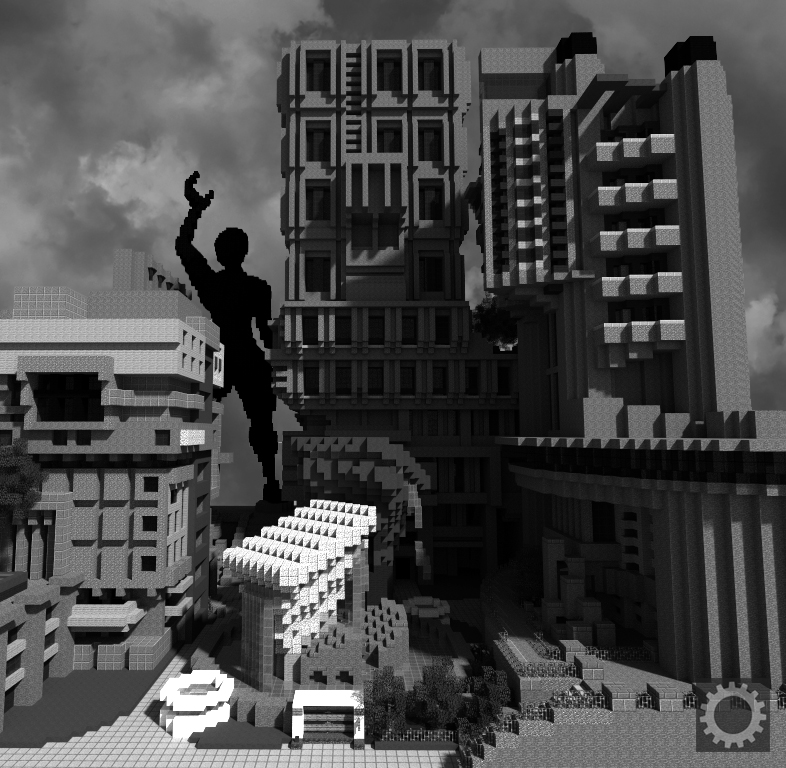 Picture from the BlockWorks' "RIBA Brutalist Build" gallery
There have been a lot of criticisms about Minecraft over the years, ranging from critique about new items added, to entire game systems implemented to great acclaim (or protest) like the hunger system. In short, no game is perfect, but what exactly is Minecraft, and is it wrong as a game?
Let's get the obvious question out of the way: Minecraft is not wrong as a game. To understand why it's not wrong, we have to look at what it is, exactly. Equally important to examine is, what the game is not.
What Is Minecraft?
The short answer is, "a block-building game". Whether a player is in Survival, Creative, Hardcore, or using mods ranging from simple to insanely complex, Minecraft is, at its heart, a gigantic sandbox where the player decides what happens. Most of the game's rules exist for simple consistency (creepers explode, because they do), but nearly everything of relevance that happens in-game is the result of players creating their ideal scenario. Some people build homes, others re-create massive historical or fantasy builds, some come up with insanely intense mini-games, others wander the world seeing the sights.
To list everything players do with Minecraft is an exercise in futility, and would take up a number of books, but it could be summarized as, "whatever they want". That's exactly the point of Minecraft - if a point exists - that it lets the player be and do whatever they want. It is the foundational essence of "play" as a concept. Blocks and basic rules facilitate whatever the player wants, and it does this brilliantly. An argument could be made that Minecraft is more akin to a game engine than a game, since it lets people play what they like.
What Isn't Minecraft?
What does the game teach? What does it impart on the player? From the perspective of most of us, the answer is a resounding "who cares?" It's a game, one we play and enjoy. Not everything has to be a life lesson. Sometimes, we want to escape life lessons buried in homework, jobs, and real life at large, and Minecraft is, like most games, intended to entertain. It does this in spades.
Now, that's not to say Minecraft can't be a teaching tool, when used as such. The base game can teach basic resource management (ever been on a long search for emeralds? They become pretty valuable after all that digging), critical thinking skills (how can I creeper-proof AND spider-proof this house...), and much more. Beyond the vanilla experience, you have projects like MinecraftEdu that use Minecraft in the classroom to teach on nearly any subject. It's that powerful.
Minecraft can be used for these things, but one thing older generations may struggle with is that the game doesn't inherently have a "win" condition. Oh sure, we can beat the Ender Dragon, get the credits and such, but the game doesn't really stop there. Once the credits are gone, we're back in the world we've made for ourselves, free to go on as we have. The only real end-game goal of Minecraft is whatever the player sets before themselves. Whether that goal is creating the most massive automated sheep farm in existence, to a literal redstone computer, to an entire city, to word-based building games, players set that goal post. They decide what their fun is, not some arbitrary third party who tells them how they should have fun.
There are a lot of sandbox games out there, but very few have the sort of universal appeal that Minecraft does. It touches lives from all corners of the world, and all walks of life, and from every generation alive today. It reaches us because it doesn't try to be something other than what we make of it. In that, it is the perfect game for the player, becoming exactly what they want of it, and nothing more. Is it wrong? Not at all.
Does it need fixing? Well, not fundamentally, but there are the occasional bugs that need squashing...
In short, Minecraft is what we make of it, and always has been. The base will always get revisions and features, but in the end, its the player who decides what becomes of it all.
The Page Community Roundtable: Is Minecraft "Wrong" as a Game? was first posted on 9:05 am, August 17, 2015 in the category Minecraft Forum it has been viewed 2580 times.
Share
Page Details
Views: 2580
Short Title: Community Roundtable: Is Minecraft "Wrong&quo..
Full Title: Community Roundtable: Is Minecraft "Wrong" as a Game?
Raw Date: 2015-08-17 09:05:35
Nice Date: 9:05 am, August 17, 2015
Rating: 0
Content Length: 4122