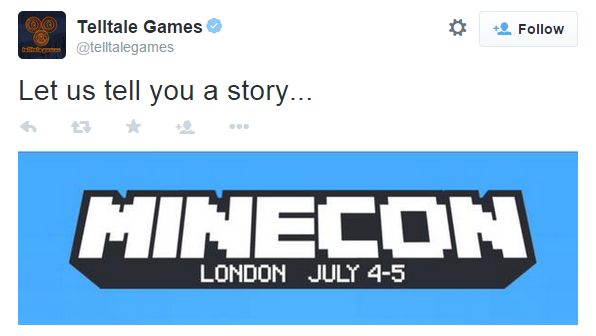 Late last year, Telltale Games made an announcement about a story-driven Minecraft game, called Story Mode. The announcement wasn't especially detailed, though it did note some important deviations from Minecraft proper - it would not be an expansion of, or directly played from, Minecraft itself - but beyond that, not much else was said. Now, it seems they are ready to share more at Minecon this weekend! What do we know so far about Story Mode?


Minecraft: Story Mode will be a narrative-driven video game created by Telltale Games. It will be about Minecraft.


Mojang is collaborating with Telltale and members of the community to make Minecraft: Story Mode as "Minecrafty" as possible.


The first episode will be released some time in 2015, and will be available on Xbox consoles, PlayStation consoles, PC, Mac, iOS, and Android-based devices.


Minecraft: Story Mode will be released episodically, just like The Wolf Among Us, The Walking Dead, or the recent Tales from the Borderlands, which is another developer-collaboration series between Telltale Games and Gearbox Software.


Telltale Games has a pretty solid history with story-driven games, though it remains to be seen what story they will tell with Minecraft. What do you think the story will be?
The Page Telltale Games: "We've Got a Minecon Announcement" was first posted on 7:03 pm, June 29, 2015 in the category Minecraft Forum it has been viewed 2558 times.
Share
Page Details
Views: 2558
Short Title: Telltale Games: "We've Got a Minecon Announce..
Full Title: Telltale Games: "We've Got a Minecon Announcement"
Raw Date: 2015-06-29 19:03:27
Nice Date: 7:03 pm, June 29, 2015
Rating: 0
Content Length: 1265