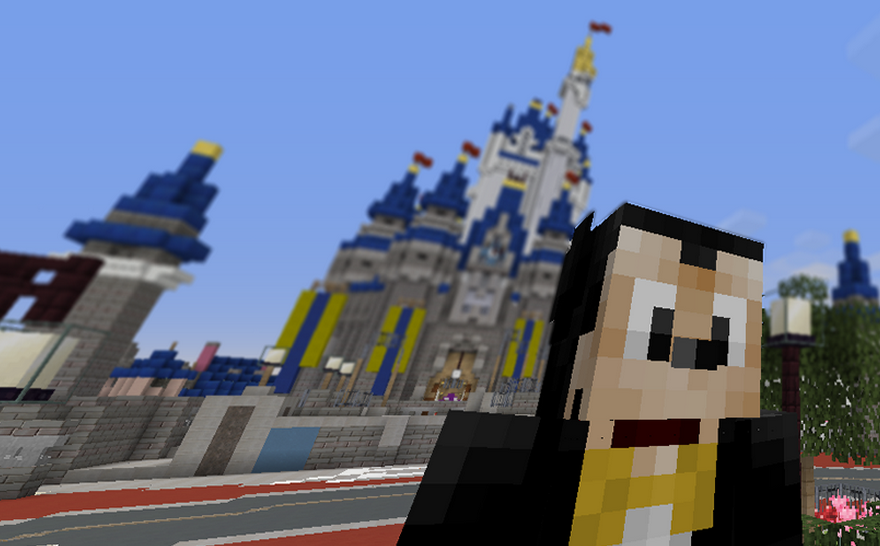 Disney World is a massive amusement park near Orlando, Florida, which needs little introduction. It is the most visited vacation resort in the world, averaging over 50 million visitors a year, and is contained over 43 square miles. Of course, for many, it is both remote and expensive to visit. What if it were possible to visit the park without ever leaving your computer?
Of course, MCMagic is here to answer that question. A project started in 2011, MCMagic is a to-scale recreation of this popular vacation spot, complete with locations of interest, park staff, and of course, tons of rides! The attention to detail doesn't stop there MCMagic also contains authentic food choices, and accurate recreations of every part of the park, including backstage areas, various "inner-workings" areas, even the locations of trash cans were taken into consideration.
MCMagic captures the spirit of the resort as closely as possible, including the assurance of being a safe, friendly place for the family to visit. If you haven't had the chance to visit Disney World in person, this is the next best thing, and definitely deserves a look. I've had the pleasure of visiting the server myself, and it is an unforgettably mind-blowing experience.
Want to see it for yourself? Click here for the details, including server information, features, and more!
The Page Community Spotlight: MCMagic was first posted on 9:05 am, November 2, 2014 in the category Minecraft Forum it has been viewed 1640 times.
Share
Page Details
Views: 1640
Short Title: Community Spotlight: MCMagic
Full Title: Community Spotlight: MCMagic
Raw Date: 2014-11-02 09:05:22
Nice Date: 9:05 am, November 2, 2014
Rating: 0
Content Length: 1343